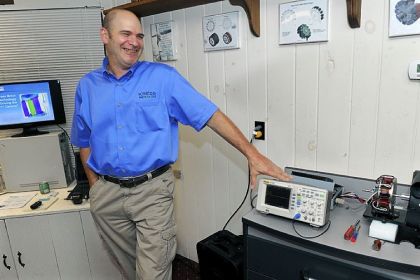 Electric motors are used everywhere: in cars, in planes, in sewage pumping stations. But when the motors break down, they can take weeks to repair -- a time frame that is problematic when the motors are handling essential tasks like pumping a town's water or keeping a person on life support.
Kress Motors LLC, a Ligonier company that was founded in 2009 by local attorney Lynda Dupre, thinks it has a solution.
The company's Axial Flux Motor is free of the complex electrical windings and magnets that make up traditional electric motors. As a result, the design is easier to repair: Rather than hauling a large, heavy broken motor out of a water pumping station and waiting weeks for it to be repaired, a mechanic could repair a similarly damaged Kress motor on-site in a matter of hours, said Brian Ott, the company's chief technical officer.
Read more:
http://www.post-gazette.com/stories/business/news/for-ligonier-firm-motors-not-on-the-mend-for-long-692121/#ixzz2WcB2w6U6