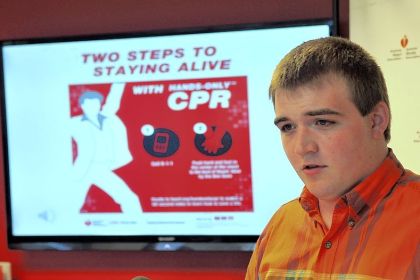 The June 4 event, which marked National CPR & AED Awareness Week, featured two survivors of cardiac arrest who had been saved by CPR. Cletus McConville Jr., now 19, experienced cardiac arrest at Ligonier Valley High School when he was 17 and was saved by school staff members who performed CPR. His sister, Sarah McConville, now 12, also was saved by CPR following a boating accident. Their parents, Cletus and Shawn McConville, expressed their gratitude for those who helped their children and urged others to learn this life-saving technique.
"If one life gets saved as a result of us being here it's priceless," said the elder Cletus McConville.
Shawn McConville emphasized that people should not be afraid to act. If bystanders fail to respond during a cardiac emergency, the victim has only a 2 percent chance of survival, Mr. Laskowski said.
Read more:
http://www.post-gazette.com/stories/news/health/learning-to-save-a-life-to-the-beat-of-stayin-alive-691100/#ixzz2VrRCpKDD